Ok , here i am back with some more bug Reports , relatedo to font placement on the screen , it seams that the coordinates given in the ini file only match on the program display for the grafic Text Option, here are some pics that show it.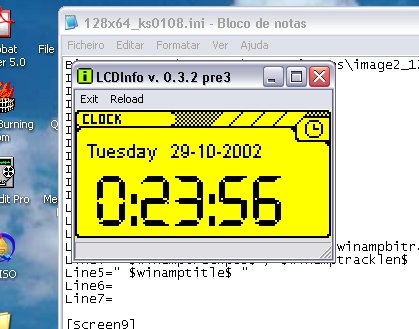 This one shows the real placement on the screen.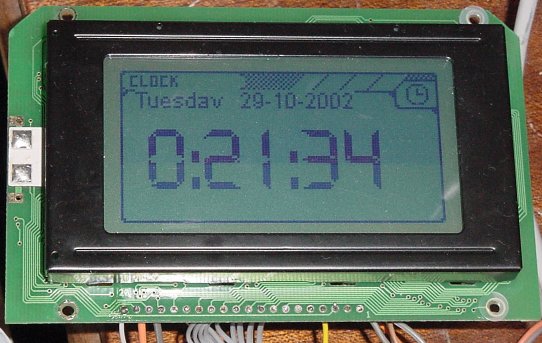 Thsi one is how it realy shows up on the display , has you've noticed to get the clock almost at the center of the screen it was necessary to intruct the program as is on the previous picture.
The ini file for this screen is as follows:
Quote:
Font Settings
[Font0]
Name=Arial
Size=7
CutTop=
CutLeft=
Invert=0

[Font1]
Name=Digital SF
Size=26
CutTop=
CutLeft=
Invert=0
Screen settings
Quote:
[Screen9]
Enable=1
Interval=10000
Bitmap=screens\128x64_ks0108_images\image3_128x64.bmp
GraphicText0=var(10,23,1,time)
GraphicText1=var(6,15.5,0,weekday)
GraphicText2=var(48,15.5,0,date)
GraphicText3=
GraphicText4=
Icon0=
Icon1=
Icon2=
Icon3=
Icon4=
Icon5=
Icon6=
Icon7=
Icon8=
Icon9=
Line0=
Line1=
Line2=
Line3=
Line4=
Line5=
Line6=
Line7=
The font for the clock is at:
http://www.skippari.net/lcd/forumstuff/digital.zip
As soon i have some screens ready i'll send them to you.
Best Regards SAmtech
ADMIN EDIT: pics and font link working again