I think 3310 uses the 8 pin display and 5110/6110 might have the 9 pin version.
And yes the display uses serial protocol and I'm bitbanging the bits through a parallel port pin.
I have the display connected to the parallel port data pins and I'm also powering the display from the parallel port. I'm using a
LP2950
regulator to get the +3.3v voltage from the parallel port's +5v. For the 5v to 3.3v logic level conversion I'm using a
74LCX245
chip that seems to fit this purpose well. The reason I chose these components is that I already had them so I didn't need to go looking for anything else. There are also many other ways to handle the level conversions. I believe that the PCD8544 chip could also work fine at 5v logic levels but I haven't tested that and it's out of the normal working specs of the chip. So you're on your own if you test that.
This is how I have the display interfaced to the parallel port:
LPT pin 2 <-> SCLK 1
LPT pin 3 <-> SDA 2
LPT pin 4 <-> RES 4
LPT pin 5 <-> CE 8
LPT pin 6 <-> D/C 16
LPT pin 7 <-> POWER 32
As you can see I'm taking power from pin 7 for all the parts I mentioned in this post. It has been working fine for me but I take no responsibility if you kill your parallel port or something else doing to same connections.
I have connected the VOUT pin of the display through 2.2uF capacitor to ground. PCD8544 datasheet says 1uF is minimum. Also I have a 1uF capacitor at the output of LP2950.
--
There has been some confusion lately and I've been getting lots of mails asking for help connecting different nokia displays to lpt port.
This schematic is made based on my above description: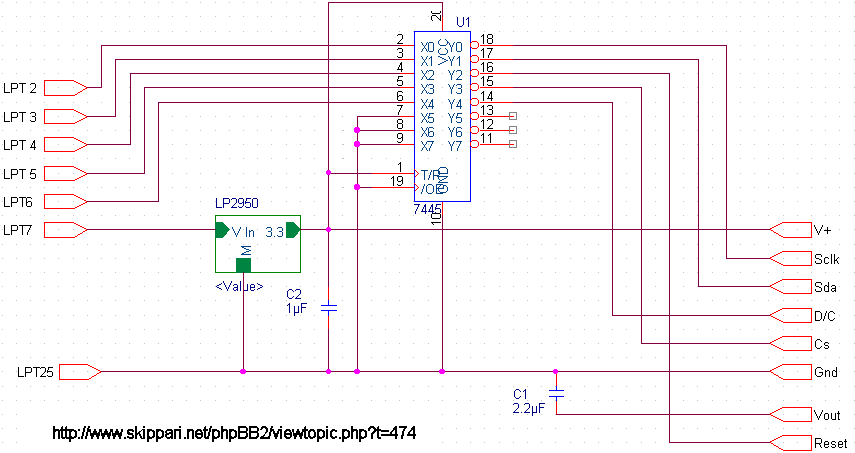 PS.
Most of the questions I've been getting by email have been already answered in this thread so if you have some questions you should read this through first. Also it's recommended to ask the questions here in the forum if there isn't some reason for private emails.