SED1565 driver is coming.
Here's some useful information.
First the pinout:
http://sandiding.tripod.com/nokialcd7110.html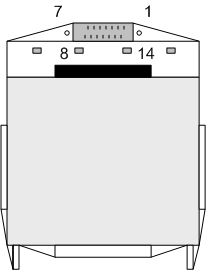 pin1 Temp sensor 47k (at 25C)
pin2 _CS
pin3 Speaker_p
pin4 D/_C
pin5 SCLK (max. 3.2MHz at Vlogic=+2.8V)
pin6 Speaker_n
pin7 On/Off
pin8 Led -
pin9 Led +
pin10 Gnd
pin11 Gnd
pin12 Vlogic (+ 2.8V)
pin13 SDATA
pin14 _RESET
For the interface this schematic can be used as a base:
http://www.skippari.net/phpBB2/viewtopi ... =2456#2456
I connected the CS, DC, SCLK, SDATA and RESET to LPT pins, Vlogic to +3.3v and GND to ground. There's no Vout in this display.
Driver coming later.